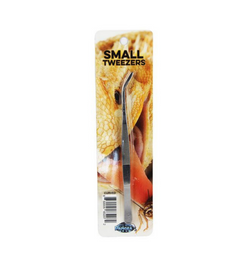 Curved Tweezer
Stainless Steel construction
Use for feeding or removing uneaten prey items
Small is 8 in.
Large in 12 in.
Curved Tweezers with textured grip are the ideal tool for feeding live insects or other food items to your pet reptiles. This ergonomic design allows you to feed your reptiles comfortably from any angle. 
These tweezers are made of durable stainless steel. They won't easily rust, chip, or degrade over time.These tweezers can be easily washed in the sink with some disinfectant or in the dishwasher.