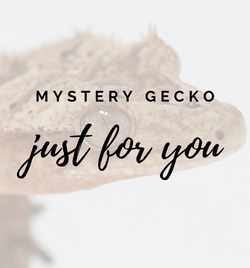 Mystery Crested Gecko
SKU: CGM
We are offering a limited number of Mystery Crested Geckos.  These Geckos come from great lines and will come in a variety of different Morphs. 
The age of the Crested Gecko will be from 6 - 8 months old and feeding on Pangea and small crickets.
These will be a great addition to anyone's collection. 
LIVE ANIMAL SHIPPING & GUARANTEE
We Ship via FedEx Next Day within the lower 48 states for $50.00. Shipping within Florida is $35.00.
We ship to the address provided during checkout unless other arrangements are made to be held at a Fed Ex Hub and we are not responsible for incorrect addresses.
Animal shipments must be scheduled as they do not ship automatically.
All animals come with a live arrival and 7-day health guarantee. Animals will be replaced with one of equal value. You must contact us with health concerns within this 7 day time frame and provide proof to be eligible for a replacement.
We ship when temperatures are between 32 F and 80 F on both ends at any time that the animal might be in transit. We can arrange for pickup at FedEx Ship Centers if temperatures are slightly outside of this range. We will hold your animal if the weather does not allow shipment for any period of time necessary.
We ship Monday, Tuesday, and Wednesday only for next day delivery.
BUYER RESPONSIBILITIES
Contact us to schedule Your Ship Out Date.
You must make sure that someone is at the shipping address on the day of arrival to sign for the animal.
YOU MUST NOTIFY US WITHIN 15 MINUTES OF DELIVERY TO INFORM US OF ANY PROBLEMS. If this is not done our live arrival and the health guarantee is voided.